we're going back to venice again this coming winter, and i'm right at the edge of making several major purchases – the airplane tickets and the downposit on the apartment we'll be living in.  other expenses, but they come later, and in dribs and drabs.  unfortunately we have our house taxes and annual water bill due at the same time, but gulp and sleepless nights should make that pass.
at this moment, without the $99 sale i'm waiting for, i can get three round trip tickets from bwi to cdg for a total of $1457.  it's wow airlines, of course, my new go-to pair of wings.  i'm going to drive to dc, park the car in someone's driveway and get a ride to the airport.  and from paris, there's an easyjet that might as well be free, so i hardly count it.  another hundred bucks maybe.
my idea is to be familiar enough with what's available that i can jump when ticket prices go on sale, and wrap up everything in a single spasm.  so i'm in contact with most of the short list owners, asking things like exactly how many steps are we talking about, and i didn't see a bathtub you do have one don't you, and it's lovely and grand but is it hard to heat in winter, and does your ground floor apartment floor during acqua alta.  some of them have already offered me discount, sometimes of 50% (airbnb),   but i'm fixing to contact them all and tell them i will get back to them once my schedule settles.  and then i'll ask them for a discount, and whomever come within my range wins.
i've noticed that the price advertised is not usually the price i get when i put in definite dates.  they all say 99/night (at the low low range i picked), yet the final prices range from 4597 to 12799.  i know why this is, one of them is a display price and one is a situational price, and sometimes there's a special (or even the other way, a grudge) price.  so it really pays to ask for a discount, because it might be that the guarantee of two months' rent is better than a couple of weekends maybe rented, and maybe not in that same two months.
i've been doing my research.  this is the short list of places with lots of steps.  when given the choice, connor decided he definitely wanted to look out over the rooftops, even if that meant he had to climb a lot of stairs many times a day, and even if it meant he wouldn't have a garden to play in.  jim and i looked at each other.  surely it should have been the other way?  so i'm listing the apartments on the secondo or higher floor, all the way to the attic.  and i'm only listing apartments with baths, per connor's preference also.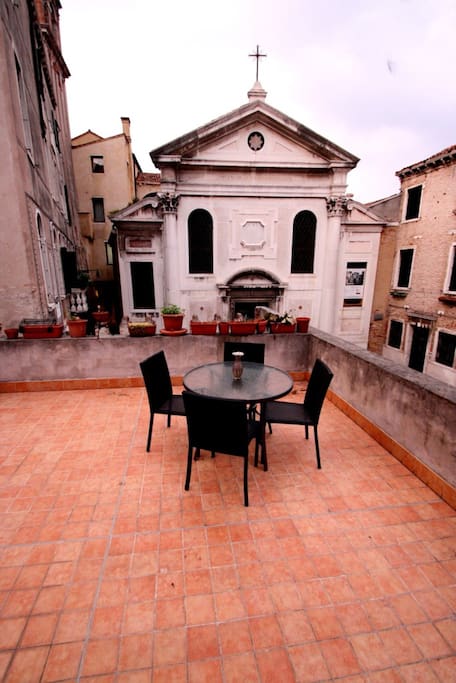 https://www.airbnb.com/rooms/453896
this one is at some unknown location in santa croce, and is otherwise okay, but has this killer balcony for connor to throw stuff off of, and faces this church.  some little research should enable me to pinpoint it; which i did, and shot the owner a question about what floor the apartment is on, and how the terrace is accessed.
https://www.vacationrentals.com/listing/p392143vb
here's one that's all light, with a campiello.  first floor (piano nobile) with balconies in every room, two bedrooms, a large living room, it's on a canal and has a view of the grand canal as well.  i love it.
https://www.homeaway.com/vacation-rental/p6498120
as for the next place, it does have two bedrooms and a bathtub, tho otherwise it's pretty nondescript and kind of claustrophobic, with a view that went unrecorded, and on a salizada rather than a canal, on the way to a vaporetto stop.
https://www.vacationrentals.com/listing/p6436654
now this is better.  it's up at the top of the house, in an area i know for a fact floods at the drop of a hat, so walking in would be a problem at times.  but isn't it wonderful? and doesn't it have nice views of cool ancient windows and rooflines?  and it has 2 bathrooms.
https://www.homeaway.com/vacation-rental/p1038181
yes, this one is way the hell up, and there are three different apartments, so i've got a requet for more information in with the owner.  at this point i don't much care where the place is, as long as it has a view and a bathtub, and i can reasonably hope they'll lower their prices.
https://www.vacationrentals.com/listing/p6019214
this one's right up at the top of an old place, with lots of space, and a bath. plus it's got a terrace.
https://www.homeaway.com/vacation-rental/p6661499
this has very high ceilings, and enough antiques to make you think it's a palazzo, but it's modern, and it's not the highest floor, but it almost is.  it's on a canal, and it's full of light.  there's something wrong with the booking engine, tho, because it quotes $12,000+ for our stay.  i haven't asked for clarification yet.
the rest of ones on the shortlist have showers, and are generally less appealing, so i'm not going to show them, tho i wouldn't kick them to the curb without serious thought if they were to come to my price range.
now to show you the ones that are on the ground floor, or the first floor.  it's not much of a distinction, because at least one of the ones listed above is actually on the middle floor of three, but it has the feel of an attic, so never mind.
https://www.homeaway.com/vacation-rental/p1052952
it's on campo santa margherita, so it's going to be noisy, but it's full of light, has 2 bedrooms and 2 bathrooms, and loads of room.
https://www.homeaway.com/vacation-rental/p1696846
ground floor in a recently restored 17th century building.  nice digs.  maybe a little fancy.
https://www.homeaway.com/vacation-rental/p1088494
pretty damned nondescript ground/first floor place up in cannaregio. two bedrooms and a bath.  don't know what the view looks like.
https://www.homeaway.com/vacation-rental/p6161567
another ground/first floor, with the bedrooms upstairs.  there are two apartments here, both supposedly identical.  sometimes it's hard to tell what people are really saying when it's all google translate.  only one of them has the patio.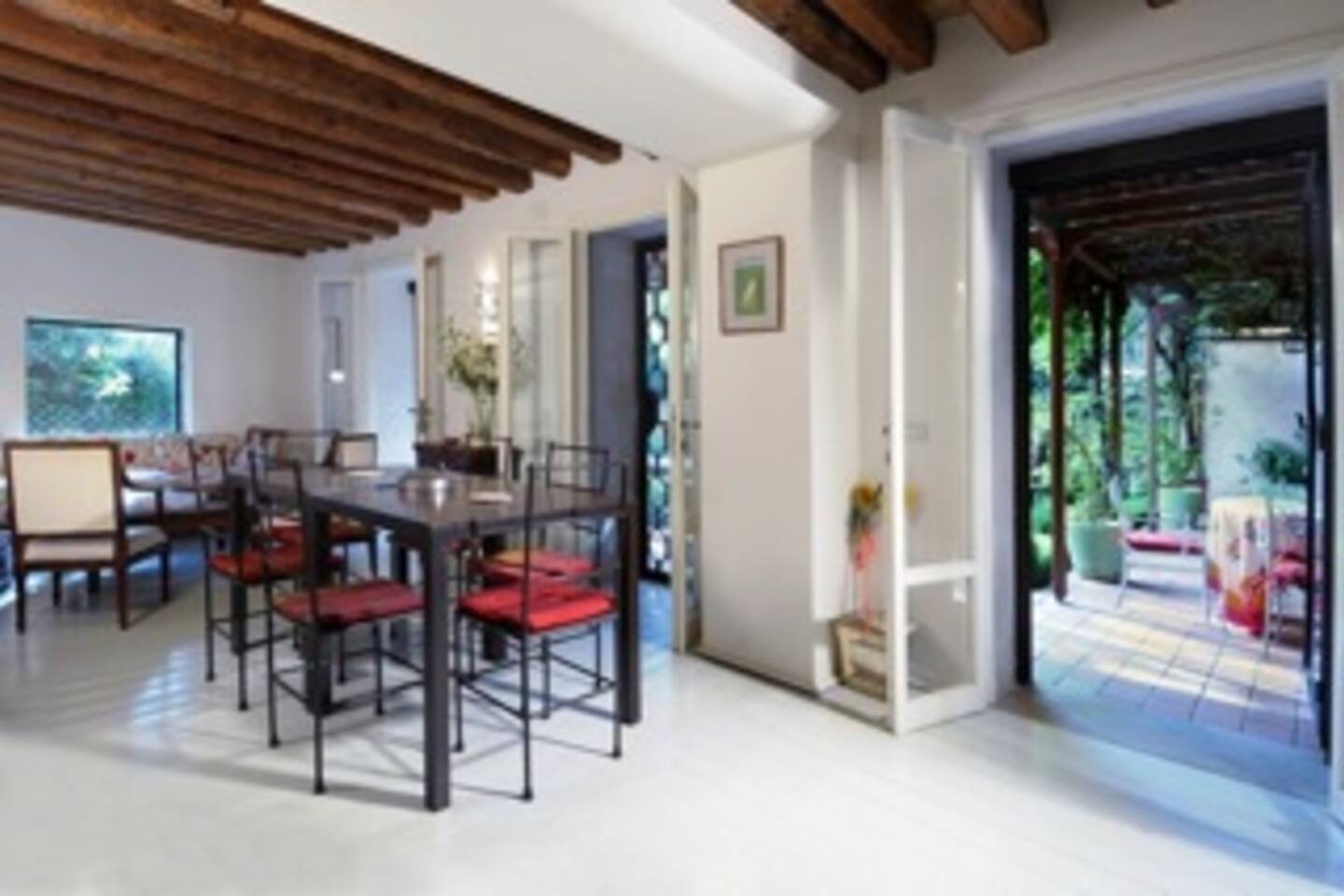 https://www.airbnb.com/rooms/3288528
this one's lovely, and it's got a great garden.  it's on giudecca, however, and jim doesn't want to be beholden to the vaporetto to get somewhere.  10 minute walk, wait for the boat, get dropped off at busy san marco.
https://www.ownersdirect.co.uk/accommodation/p8054219
this one's great.  it's 4 apartments in an old palazzo that's been in the family for many generations, and mom still lives on the piano nobile.  this one is a one bedroom with an alcove for connor, and it's mezzanine level with a view over the back gardens.  i like it a lot.
https://www.vacationrentals.com/listing/p1772029
this is two separate apartments, and you can't really tell which is which from the photos.  so i've inquired, but haven't yet figured it out.  google street view only goes so far.
https://www.vacationrentals.com/listing/p1438005
this is one i would dearly love to rent.  it's the ground floor, and it's been renovated, so perhaps it's up higher and won't be so prone to flooding.  because it's right on two canals, and it's full of light, and it's got a garden.  it's close to the train station but tucked back.
https://www.vacationrentals.com/listing/p1770655
the testa apartment is perhaps my favorite, and i'm going to use it as an example of pricing, because i don't understand it myself.
1/7 – 2/16 is the low season, when they want $90/night.  3/1 – 3/31 is the middle season, at $120/night.  very high season is 12/27 – 1/6, and 2/17 – 2/28, and they charge $160.  we're coming around the 11th of january, which is low season, and we're there just over a month during low season, but then it goes to very high season for a week and a half, and down to middle season for our last 10 days.
the normal price that comes up when i put in my dates is $7172.  let's see, 59 nights, that's $122 a night.  is that the calculated price using three season pricing?  let me check.  35 nights (i'm not actually counting) at $90 is $3150, then 10 days at $160 is $1600, and 10 days at $120 is $1200.  that's $5950.  hmmm.  4 days' difference shouldn't be a thousand dollars.  okay, let me try this.  weekly prices, 5 weeks at $630 is $3150.  oh, wow, the weekly prices are multiples, not discounts of the nightly prices.  it doesn't tell me anything about the discrepancy between my figures and their quote, or how they actually calculate prices, but it does tell me that there's loads of wiggle room.
in trying to figure out the pricing, i – and the owner – have to guess.  we can accept that the whole of carnival season – one and a half weeks !?!?!?! – will be booked.  and as for the rest of the time – six and a half weeks – there may not be anybody in their apartments at all.  so everybody has to ask themselves – is a deep discount for constant occupancy better than a mostly empty apartment with a post-carnival mess to clean?
when i have asked for a discount from others, at the beginning of the process, i've gotten offers that come right in or very close to my range – which is a thousand a month, which is ridiculous in venice, but we're working on miracles.  i'm waiting to ask with most of them, because i don't want to piss anybody off by dragging it out.  but i am wording that nice little note saying i'll be back.
jim saw these places one bleary day, and like me he wasn't comfortable with all-white interiors (cries out for marks), or overdecorated interiors, or kitchenettes, or showers, or sagging beds.  he looked at the prices too much, tho i kept telling him these were just suggested retail prices, and bore little resemblance to real prices.  just a guideline.
but i'm waiting for wow airlines.  right now it's $500 a ticket, round trip, from washington to paris.  but i'm ambitious.  and i'm going to bet that there will be places open to rent even if we wait a month before booking.  however, i'll be checking every day or two to see what's still loading up as available.  all it takes is one booking for a weekend and a place will become unavailable, unless the owner is unscrupulous and cancels them to accommodate us.  and i won't know about it, either, so it'll be bad karma all around.
what i haven't paid any mind to is our stopover in iceland.  yes, i'm taking them back on the way home, cutting our trip down from 3 months to 2 and mostly a half month by adding on a ten-day stopover in mid-march, when there are still northern lights and still plenty of snow.  so much so that i'm not sure about the idea of renting a camper.  but i will think about it in time, and get advice from friends, and plan it out just like i did last time.
and the whole time, our house and dogs will be cared for by housesitters and friends.
i'd love to know what you think of the apartments we might could be living in for a couple of months this winter.  what's essential for you in a place to live?  for us it's a working kitchen, the internet, good beds, a bathtub, a view, and a nice vibe.