i love this place, and can't get enough of it, especially since atlanta is in the 90s now, and we've got temperatures in the upper 30s here.  you can put on more clothes, but it's illegal to wander around naked most everywhere, so i'll stay here.
connor and i have been back in olafsfjordur since thursday afternoon, and i'm only now getting over jetlag.  it's getting harder to travel as i get older, and i get a migraine if i have to tote luggage.
it was quite difficult finding a good flight this trip.  usually we take wow airlines, but they went spectacularly bust right as i was ready to buy the tickets.  i knew it was going to happen because it was a slow motion crash and burn, but i wasn't sure of the timing, and what would happen afterwards, so i waited and waited.  but then all my plans became settled, and i was ready to buy, and that day they went bankrupt and stopped flying, leaving thousands of employees suddenly without jobs, and many thousands of passengers stranded in whatever country they were in.  sigh.  R.I.P. cheap flights.  so i continued my search, and within 24 hours prices for the other airlines started to rise.  i managed a cheapish fare with delta – $500-something, but it was a complicated flight, going from washington dc to new york, with an 8 hour layover, then to reykjavik, then a transfer, and another flight to akureyri, with a bus at the end to take us to olo.  and the same thing on the way back.  but i've lived in new york before, and we went there in march for a funeral, and connor has spent time in new york's finest playgrounds, so i thought it would be very doable.
the week before we left, i put my passport thru the laundry.  this is a big nononononono.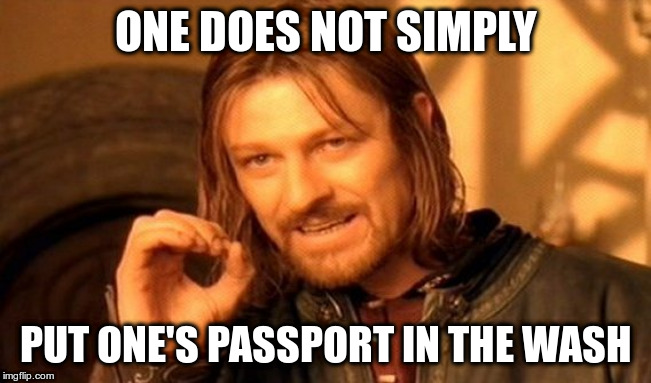 so that was an emergent emergency.  i had to call the state department, make an appointment, get my original birth certificate out of the safe deposit box, get a new passport photo, fill out a form, and show up at the passport office, where their computers were down and the turnaround time had increased to 3 days in an emergency.  thank god i live in a large city with a regional passport office.  if i did not, i was travelling to washington to catch my flight, so i could have gone there, but that would have cut it entirely too close.  so i bit my nails for five days.
then i managed to jostle my computer while it was on my knees, while i was holding a beer, and spilled beer into my computer.  it's one thing to spill water into a computer, but beer has all sorts of extra ingredients that corrode little bits of precious metal, so that was the end of that.  the keys started to stick, the monitor started to blink, then i couldn't log on, or anything.  i was left with only my clunky old laptop that weighs 7 lbs, and we were only taking backpacks with us, so i was dreading the extra pounds.  but as i was dropping off stuff at the thrift store, i passed the same pawn shop where i bought my magenta hp stream that i had just killed, and decided to drop in to see if they had anything else.  it had been several years since i bought the other one, and really wasn't expecting to find anything.  but there was another hp stream, a little larger, purple instead of pink, and only $60.  so i snapped it up, took it home, put a linux operating system on it, and found that i couldn't connect to the internet.  but i didn't have time to worry about it, because events overtook me.
we had a family thing for memorial day – just last weekend – and i had to clean the house and ready a room for my cousins, marc and margaret.  i also had to clean the house so that i could come back to an organized place, because i hate coming back to a filthy house.  jim, who has remained behind (because he likes 98 degree weather) will keep it clean enough, but he won't organize anything, so i had several days of clearing stuff away, dropping things at the donation center, and mopping floors.
and on top of that, jim is interested in entering art shows this year, and we've had a number of entries an applications to prepare.  the biggest one is the luxembourg prize, and the deadline was june 2, so i was frantically trying to finish it up before leaving, and was having lots of trouble with the words.  descriptions of what the hell he was thinking when he painted it, what it means, things jim has no clear idea about even when he's in the middle of painting – he's often surprised when he finishes a painting to find he's put in a self-portrait, sometimes, or that there are symbols he included subconsciously.

one of jim's most accomplished recent paintings
i successfully transferred the files to the old computer (i'd backed up everything right before i killed my computer), and was working on it, and my new laptop was languishing on my desk, waiting for the chance to deal with the problem.  i even took precious time to schlep it over to my friend david's, so he could help me deal with it, but he's a windows guy, so we were helpless.  the issue was a known one – linux doesn't support my particular network card – and the fix was easy:  just connect to the internet and download the drivers.  but you can't connect to the internet with this little chromebook thingie without the proper drivers for the network card, so i was stuck.  i had to order a dongle from amazon, then find an ethernet cable, and then download the drivers.  once the dongle came, it was childsplay (like i'm a great linux operator hahahaha), and i easily transferred all the files i needed, and was able to bring this laptop instead of the heavy one.  but it took two days of fiddling, and i didn't have that kind of time.  altogether, with the passport and the computer, i had used up all of my cushion, and was now down to the wire.  i don't have fingernails at this point, but i did get a month's supply of zinc chewing them up.

my cousin marc and his brother steven's son, with allison, jim, and margaret
the cousins came, we got together with more cousins for dinner, i picked up the rental car so i could drive to washington, i finished packing, we did the memorial day memorial thing, i had a nap, and at 11pm we bundled connor into the car and took off for dc, a 13 hour drive.  i like to drive all night when i have to make this trip, so connor can sleep for most of the time on the road.  it usually begins to be morning as we're entering the bottom of virginia, so we get to go thru the most scenic areas while we can see them – the blue ridge mountains and the central valley of virginia.  i always stop at white's truck stop, which has been a thing as long as i've been driving this route (40 years), and they have local produce in the shop, so i always get something to take home.  the last time i stopped in, they had candied jalapenos, which are exquisite, but they've stopped carrying them, and i only found the last three jars after a thorough search, the staff telling me they had none, and me unwilling to believe it.  once connor's awake, we stop every two hours to let him run around, so our journey was slower after dawn, but that's okay because i start to tire out.  we got to northern virginia about 2pm.  i had planned on staying with my brother michael for the night, as usual, but he was leaving for his own vacation with the family the next day, so it totally wasn't possible.

jaci and kids, with connor.  i think there's one missing, but that's because he was off doing something else


the kids all playing together in the front yard
so i stayed with my other sister in law jaci and her kids, which was wonderful.  we caught up with what's been happening with both of us, connor played with his other cousins, and we had a very laid back time, went to bed early, and were up before dawn in order to make it to storage to leave his car seat and my jalapenos, and made it to the airport with plenty of time to spare.

we got there almost before sunrise, and the traffic still sucked
i did manage to leave one of the backpacks on the shuttle bus at national airport, so we had an hour of waiting until the bus came back (it was connor who noticed, bless his pointed head), and then i managed to leave the very same backpack on the shuttle bus from keflavik to reykjavik (and i just had time for me to go back and get it).  this was an enormous old backpack that was just large enough to pack connor's beyblade arena, and it was so old that the straps disintegrated as i was packing it.  but we couldn't use anything else, and so i lugged it in my arms thru three airports.

he's got the sniffles, and was just barely awake at national airport
i had brought some packs of exotic conjac noodles with me for unnar, my host, and they were still in the shipping box.  but when they went thru security in washington, the nice lady checked with her boss and let me know that it would be okay to take them in our carryon luggage, but that jfk wouldn't be so nice, because they were effectively packs of gel, so i was going to have to check a bag in new york.  the flight to new york was quick, and we landed before noon.  contrary to expectations, there is actually luggage storage at jfk, so we took the time to check the one bag, and dropped off the rest, and headed for the subway to the city.

connor took the new york city subway system in his stride, even ducking under the turnstiles in the spirit of nyc subway riders
it takes about an hour to get to manhattan from jfk airport, and it's your typical subway ride thru nyc, which brought back a lot of memories from when i lived there 30 years ago.  we had 8 hours (really more like 6), so our plans were simple.  playgrounds for connor, lunch in a wall street deli (lox and bagle, thanks), a ride back and forth on the staten island ferry (now completely free, in new york!!!), and pastry and hot chocolate/coffee in a nice little place near wall street.  then back on the subway, collect our bags, and go to our gate.

we got a picture of the bull, but this is far more palatable

not to make light of a catastrophe, but connor is seated in the arms of the irish famine memorial

his newest favorite playground, where local school kids come on their recess

the staten island ferry, a bit too cold to stand in the door and watch
that's when a big storm came thru, and delayed everything for 3 hours, so we sat around for awhile.  and then they moved our gate to a different terminal, so we had to go thru some more hoops.  connor was so tired by the time we boarded the plane that he didn't even watch a movie, and fell asleep before dinner.  i slept too.  we arrived 2 hours later than scheduled, and took the shuttle to the bsi terminal, where our friend runa had been waiting for awhile.  a taxi across the street (a 20-minute walk with bags) to the domestic airport, and then breakfast in the terminal.  and that's when we discovered the missing bag, and i had to leave connor and runa there and go fetch it.  which took another hour.  but whatever, it all turned out fine.
a nice flight under blue skies over the highlands, following glaciers the whole way, and then we were at akureyri airport, and our friends inga and ingimar were waiting for us, having volunteered to come get us when it turned out we landed during a holiday and the buses weren't running.  the whole week had been just like that, with interruptions, and unscheduled bits, and having to scramble to adjust.  but we adjusted, and now we're here.

not sure which glacier this is, but there aren't that many left here. but hey, global warming is a hoax, right?

i've written much about this lovely little fjord where we stay when we come to iceland.  i originally came here because i was writing about antarctica after the ice is gone, and i needed to know what the landscape would be like, and this place is exactly like it will look in the hundred or so years after the ice melts in antarctica.  i never finished the novel i was writing, but fell in love with this place instead, and have kept coming back here since 2014.  listhus, the art residency where i stayed is no longer, unfortunately for the dozens of artists who have been here and want to return, but i was asked to housesit back in the winter, so my stay here will be for a month.

one of the cats i'm housesitting
when we arrived, it was fisherman's day, seamen's day, and since this is a fishing village, nearly everyone has a family member that goes to sea.  so they take this holiday very seriously, with all sorts of festivities – a fishing competition for the kids (cold and windy on the pier, but connor was there casting into the water), a rowing competition, a strongman contest, live music, dancing and dinner, a parade, all the things.  and we participated as we could, and unwillingly participated in the loud music and crowds at night, because unnar's house is directly opposite the town hall where they have a large space for partying.

connor already knew how to fish, thanks mommy
we're in an adorable little house that unnar bought last year, with two cats, and it's very near to kaffi klara, where i will be working unofficially while i'm here.  when we arrived at the cafe, there was someone waiting for us who is very anxious to have me put a troll mural on her wall.  and ida took me around the back of the cafe, where they will be expanding, and asked me to put a troll on that wall.  there's also tommi's troll, which was designed several years ago and has yet to find a home.  so i will be very busy while i'm here, which is how i like it.

the view out of the back window
unnar left yesterday, and will be gone all month doing her thing.  and after taking long naps every day, i'm finally back to my normal energy level.  i finished the application first thing in the morning, and went to the shop in the afternoon and bought a whole bunch of food, and now i'm making spaghetti, and getting ready to make indian curried eggs, which i adore.  i've made a deal with ida at the cafe for food in exchange for work, so that'll feed us lunch every day.  and i managed to help alice clear out all the accumulated stuff from listhus, so they can turn it over to the new owner.  now i'll be going back and forth with jim at home to make troll drawings for the various walls i'm going to be doing, and all that is left is to score some paint so i can actually execute the drawings he'll be sending me (thanks to our friend marie, who downloads and uploads the references and final drawings).

at the dinner table, probably eating candy
so life is good, we're back in iceland, connor has rediscovered all his friends and has the run of the town now that he's seven, we bought our pool passes and spent a couple of hours luxuriating in the hot pot while the wind and cold raged all around us, and now he's downstairs in his room watching troll hunters, and i'm up here finishing up my first post in a long time.  i call jim every night, and we call connor's mom every couple of days, and everything is going along wonderfully now that we've finally stopped travelling.  touch wood.

guess who lost his very first tooth the morning after we arrived?  pulled it out himself, and got 500kr from the tooth elf.